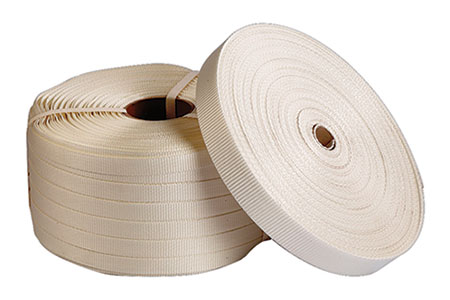 CO-STRAP Polyester Corded Woven Straps are produced by combining high tenacity polyester yarns in the narrow weaving machines and then passing them through the fixing process in order to achieve requested strength, width and length.
Due to their practical use and cost effectiveness, they can be preferable for all kinds of products.
WOVEN STRAPS

CO-STRAP Product Code
Width (mm)
Linear Break Strength (kgf) 
Coil Length * (m)
Core Diameter (mm)
STANDARD APPLICATION
WV13ST
13
360
1100
76
WV16ST
16
450
850
76
WV19ST
19
600
600
76
WV25ST
25
800
500
76
STRONG APPLICATION
WV13STR
13
475
850
76
WV16STR
16
600
600
76
WV19STR
19
750
500
76
WV25STR
25
1000
500
76
EXTRA STRONG APPLICATION
WV19ESTR
19
1000
400
76
WV25ESTR
25
1400
300
76

* : Different coil lengths are available upon request
CO-STRAP Polyester Corded Woven Strap's most important features;
High Strength
Shock Absorbent
Does not get loose (High Retain Tension)
No sharp edges that could damage your products
Does not damage cargo
Cost Effective
Fast and easy to use
Soft and can be used without buckles
Safe Usage
CO-STRAP polyester corded woven straps should be used with phosphated wire buckles. When used with buckle straps don't get loose during transportation and this allows your cargo to reach its destination without damage. CO-STRAP polyester corded woven strap has considerably higher system breaking strength than PP Strap when used together with the appropriate buckle.
The most important factor affecting system strength is the strength of the joint. CO-STRAP polyester corded woven strap's joint strength reaches up to 60-80%.
CO-STRAP polyester corded composite straps, CO-STRAP textile straps and CO-STRAP woven straps can be re-tensioned if necessary.
CO-STRAP polyester corded woven straps come in a wide range of dimensions. We have products that can be used, depending on the type of application and the weight of the pallet, in different widths (from 13mm up to 32mm) and in various breaking strengths (from 150 kgf up to 1350 kgf.)
TARGET INDUSTRIES AND APPLICATION AREAS
These straps are mainly used in:
Aluminum and facade systems, chemical industry, glass industry, stone and brick industry, metal industry, wood products and lumber industry and parcel packaging sectors.
WHY CO-STRAP?
We produce Composite Straps under CO-STRAP trade mark in accordance with international norms and quality control tests regularly performed. Our customers all over the world use our straps safely.
Our company, which has ISO 9001 certification, continuously conducts R&D studies in cooperation with universities and ''The Scientific and Technological Research Council of Turkey (TÜBİTAK)'' in order to improve the technology and the quality of its products.
We can produce our strapping in color, with special flexo print e.g. company's logo / website / requested text, upon customer request.
We offer to all our trading partners the most cost-effective solutions without compromising on our quality.