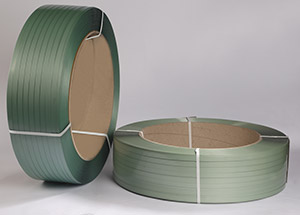 PET Strapping can be used on loads requiring high, medium and low strength applications. They can be applied manually (with buckle) or with semi automatic (pneumatic or battery) strapping tools or used in fully automatic pallet strapping lines.
Being resistant to severe weather conditions, it shows long-lasting durability against adverse weather conditions (hot/cold/humid.) However, when exposed to sunlight, it loses its mechanical properties in a very short amount of time. For this reason, it should be stored in proper conditions and never be exposed to sunlight.
When PET strapping is used with semi automatic or with fully automatic machines, it is very safe against impacts during transportation. However, used with wire buckles and seals, system breaking strength becomes very low and therefore this is technically not a suggested method of application as the cargo may be damaged during transportation.
PET strapping due to its strength and elastic properties can be an alternative to steel strapping in some applications. When used for packaging of the metal products it does not corrode when in contact with the product, it does not harm the product and it is suitable to use in terms of work safety.
There are two types of PET strapping: smooth surface and embossed surface. Smooth straps have higher breaking and joint strength and stiffness than embossed straps.
It is one of the widely used strapping in the world. Has higher breaking strength compared to PP strapping. However, Corded Straps have higher breaking strength values than PET strapping.
TARGET INDUSTRIES AND APPLICATION AREAS
Usually used in fully automated conveyor belt systems, it offers the advantage of being swift and safe.
That is why it is widely used in:
Ceramic industry,
Wood-chipboard production,
Lock cobblestones,
Concrete for the construction industry,
Predominantly preferred in the food industry
In addition to these areas, PET strapping is preferably used manually in other industries due to non-standard pallet measurements:
Marble and granite production,
Aluminum,
Metal industry,
Automotive,
Durable goods,
Automotive spare parts
Bailing
CO-STRAP supplies products from international companies (CYKLOP and TEUFELBERGER) who have proven their quality in PET Strapping. With these high-quality products, our customers can create affordable solutions without any sacrifice on quality
| Width (mm) | Thickness (mm) | Coil Length (m) | Surface | Linear Break Strength (kgf) | Core Diameter (mm) |
| --- | --- | --- | --- | --- | --- |
| 9 mm | 0,50 mm | 3.000 m | EMBOSSED | 200 kgf | 400  mm |
| 9 mm | 0,60 mm | 3.000 m | EMBOSSED | 230 kgf | 400  mm |
| 12 mm | 0,60 mm | 2.200 m | EMBOSSED | 250 kgf | 400  mm |
| 12 mm | 0,70 mm | 2.500 m | EMBOSSED | 340 kgf | 400  mm |
| 12 mm | 0,70 mm | 3.200 m | SMOOTH | 380 kgf | 400  mm |
| 15 mm | 0,70 mm | 1.500 m | EMBOSSED | 400 kgf | 400  mm |
| 15,5 mm | 0,90 mm | 1.500 m | EMBOSSED | 534 kgf | 400  mm |
| 15,5 mm | 0,90 mm | 1.500 m | SMOOTH | 640 kgf | 400  mm |
| 16 mm | 0,60 mm | 1.800 m | EMBOSSED | 380 kgf | 400  mm |
| 19 mm | 0,80 mm | 1.000 m | EMBOSSED | 650 kgf | 400  mm |
| 19 mm | 1,00 mm | 1.000 m | EMBOSSED | 730 kgf | 400  mm |
| 19 mm | 1,00 mm | 1.000 m | SMOOTH | 840 kgf | 400  mm |
| 19 mm | 1,27  mm | 730 m | SMOOTH | 1200 kgf | 400  mm |
| 19 mm | 1,27  mm | 2.200 m | SMOOTH | 1200 kgf | 400  mm |
Katalog