Dunnage bags are used to secure the products inside the container, the railway wagon or the truck during long sea and railway shipments in order to prevent rubbing of the pallets with each other, to eliminate the risk of overturning etc.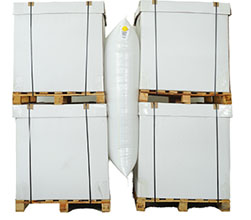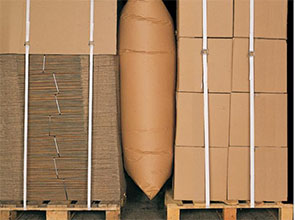 There are two kinds of Dunnage bags: Polypropylene Woven and Kraft. The sizes and dimensions vary according to the weight of the pallets, the dimensions of the container. At the same time, they are classified by "levels" referring to the quality (strength) of the Dunnage Bags.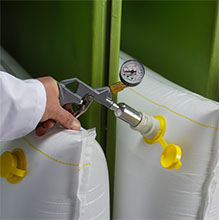 ECO LINE
LEVEL 1, LEVEL 2
LEVEL 3,4,5
DUNNAGE AIR BAG DIMENSIONS
Dimension (inch)
Dimension (cm)
24" x 36"
61 x 91
36" x 48"
91 x 122
36" x 72"
91 x 183
48" x 72"
122 x 183
48" x 84"
122 x 213
* : Other Dimensions are also avaible upon request
Which dunnage bag is right for you?
Eco Line : Best used in truck shipments consisting of lightweight cargo
Level I : Best for light applications carried by trucks
Level II : Best for intermodal freight transport
Level III : Best for rail or ocean bound cargo transport with flat wall surfaces
Level IV : Best for heavy applications during rail or ocean bound cargo transport
 
ECO LINE
LEVEL 1
LEVEL 2
LEVEL 3
LEVEL 4
LEVEL 5
Load capacity
less than 35.000 lbs
less than 45,000 Ibs
less than 75,000 Ibs
75,000 Ibs- 160,000 Ibs
160,000 Ibs- 205,000 Ibs
For horizantal roll paper application up to 205,000 Ibs
AAR Verified
 
 
 
 
 
 
Max Working Pressure  PSI
 2.5
3.0
5.0
8.0
10.0
10.0
Transportation Mode
Truck Intermodal Sea Container
Truck Intermodal Sea Container
Truck Intermodal Sea Container
Rail Vessel
Rail Vessel
Rail Vessel
 
 
ECO LINE
LEVEL 1
LEVEL 2
LEVEL 3
LEVEL 4
LEVEL 5
Load capacity
less than 15.000 kg
less than 20.000 kg 
less than 30.000 kg 
30.000 kg - 70.000kg
70.000 - 90.000 kg
For horizantal roll paper application up to 90.000 kg
AAR Verified
 
 
 
 
 
 
Max Working Pressure  PSI
 2.5
3.0
5.0
8.0
10.0
10.0
Transportation Mode
Truck Intermodal Sea Container
Truck Intermodal Sea Container
Truck Intermodal Sea Container
Rail Vessel
Rail Vessel
Rail Vessel